Supplier Quality Engineering and Development (SQE and SQD) is one of the key facets of collaboratively working with Suppliers to continuously improve performance. SQD activities span the whole lifecycle of the supplier relationship and the product lifecycle.

Supplier Quality Development can include the following activities
Supplier Quality Training
Implementation of Quality Tools and Continuous Improvement
Committing resources to suppliers
Investment in tooling and capital equipment when needed
Reward and recognition of supplier's achievement in quality improvement
Closely aligned with SQE and SQD are Quality measurement steps that include
Supplier quality evaluation
Supplier quality certification/qualification
Supplier quality performance measurement
Measuring and tracking cost of poor quality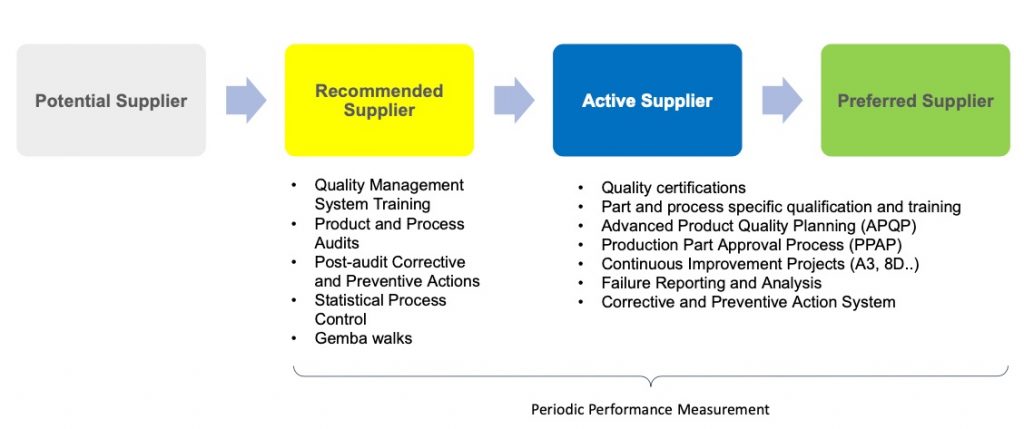 Supplier Development and Supplier Quality Engineering
Supplier Quality Engineering is a central and integral aspect of Supplier Development. Supplier Development is practiced effectively by Automotive OEMs, and especially well by Japanese Automakers. Research conducted by Mari Sako provides a comparison of Supplier Development strategies based on case studies at Toyota, Nissan and Honda in Japan. Most organizations approach Supplier Development as a strategy and process for improving suppliers' capabilities. It can also be seen as attempt to replicate aspects of a firm's organizational capability (in terms of Engineering, Quality, Production, Management Systems, and Continuous Improvement) at its Suppliers.
The Toyota case study from MIT below illustrates the need for Collaborative Supplier Quality Engineering and careful consideration and deep assessment of Supply Chain capability when working with Suppliers
Toyota Supplier Relations Case Study